Traceability and operational control for the forestry sector in the palm of your hand.
Without buying a software.
Management system specific for the management of native forests and industries in the sector.
Developed by those who use it.
BRFLOR is the synthesis of what we always looked for and never found in the market, so we decided to create. A platform development company focused on the optimization and management of forest-based enterprises.
Easy to use and secure, our systems simplify processes and allow full traceability of timber and non-timber products.
A multidisciplinary team, with more than 20 years of experience and a broad portfolio and experience of the challenges of the sector, ensures that our solutions are efficient, specific and fully customized.
Our purpose is to guarantee the growth and profitability of forestry businesses, with technological and innovative solutions for the sector, ensuring the conservation of forests.
More than management softwares.
Three work modules that can be used together or separately.
Forest Management: native forests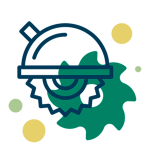 Industrial Controls: sawmills, processing units, etc.
What else you will find in our systems:
Do you still have any doubts that our solutions are ideal for your enterprise?
Talk to one of our customers!
Click the button below to send us a message, request a demo, ask questions or for partnerships.